Day 118: Glacier Peak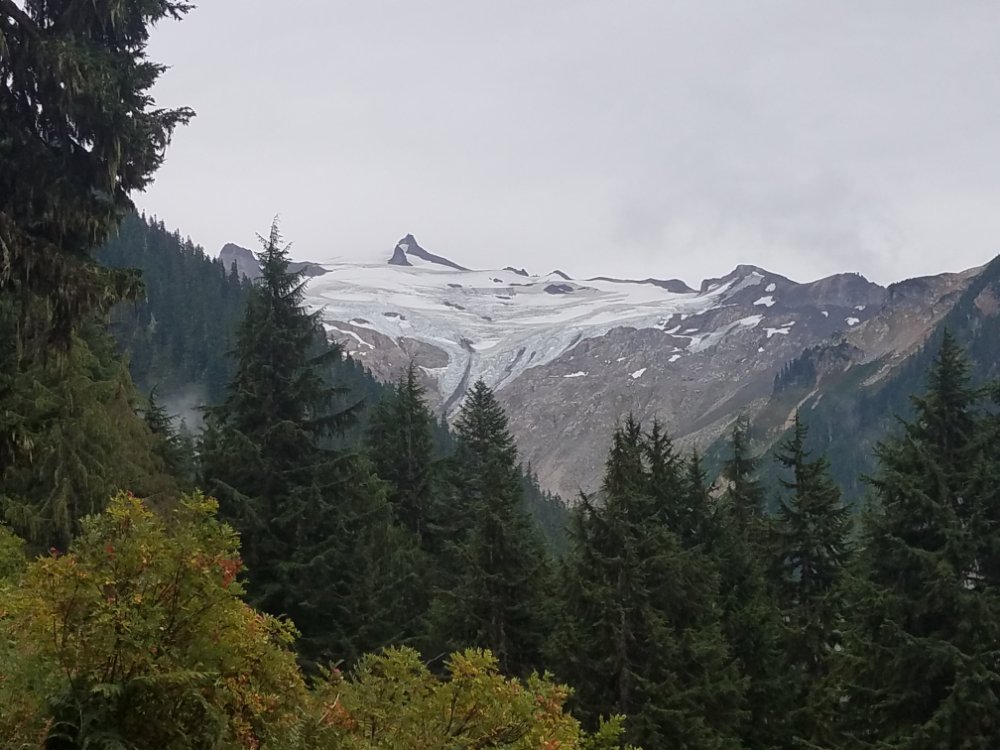 From Mica Lake mile 2518.3 to mile 2540.7
It was raining this morning and I refused to get up. I did a mental inventory of my food and remaining miles to resupply. A full day in bed.
Eventually the rain slacked off and I got up. Cold, windy, foggy and wet. First a several mile descent. Then a long climb up Glacier Peak. About three quarters of the way up the fog lifted so I could see the glaciers.
Over the top I took a break and another hiker came along. He knew me he said. It was Marcos who I had hiked with during the first week. He had quit at Julian but apparently after a few days he returned.
We hiked together the rest of the day which from there was a 10 mile descent to the Suiattle River.
Climbing over a large blowdown I was attacked and stung 3 or 5 times on my left leg. My leg was almost stuck and I could not flee quickly enough.
Marcos told me about Tree. She and Marcos hiked together for a month and he was regularly frustrated with her. Sounds like she was a bit flaky. Eventually she said she wanted to hike alone. Within days she was dead, drowned in a creek crossing north of Tuolome Meadows.
As I write this I am in my tent. My wet tent. In my camp sleeping bag. At least my sleeping clothes are mostly dry. Hopefully there will be sun tomorrow so I can dry everything out.